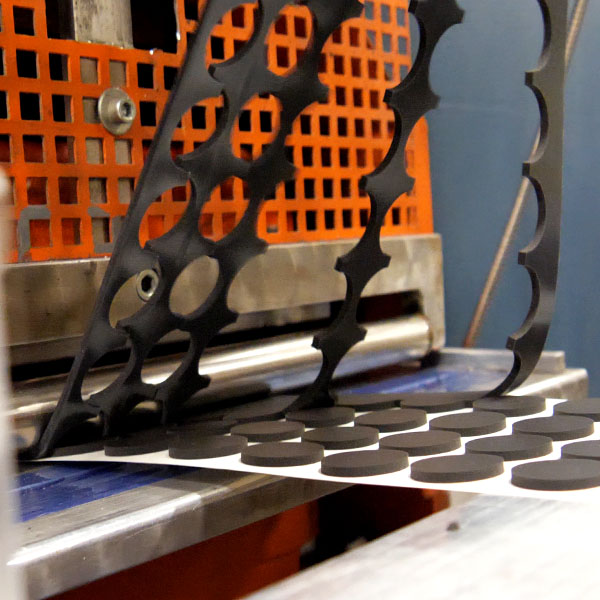 SECON has unlimited die cutting capabilities. Kiss-cut, perforation, multi-level, scrap web removal, knockouts, and more. From very small to very large. Individually cut parts per your specifications are available with and without pressure sensitive adhesive.
Our diverse die cutting capabilities can be optimized to meet your specific application needs. Allow us to help you decide which die cutting method will result in both production efficiencies and cost savings.
If you have any questions about SECON's die cutting services, just reach out to us and we'll be glad to help.
Rotary Die Cutting utilizes a laser engraved all steel cylindrical tool.
Rotary Die Cutting Benefits:
Precision tight tolerances
Kiss cut, perforate, throughcut
Great for high volume applications
Quick tooling turnaround
Rolls, sheets, and industrial parts
Best for high volume tapes, films, felts, flocking, thin foams with or without adhesive
Flat Bed Die Cutting utilizes steel rule tooling.
Flatbed Die Cutting Benefits:
Tight tolerances
Cost effective (lower tooling cost)
Accommodates low to high volume production runs
Kiss cut, perforate, throughcut
Rolls and sheets
Great for large die cuts
Capable of thicker materials
All of SECON's custom die cut parts can be 'kiss cut' to the adhesive release liner.
So what is kiss cutting? It's when our cutting tool cuts through the adhesive backed foam or rubber, but only 'kisses' the adhesive backing—keeping it in tact—and leaving you with a sheet or roll of easy peel & stick parts.
Kiss cutting allows the end-user to remove individual parts from a common backing, so there's no need to pick adhesive release liner from individual parts.
Our kiss cut parts are available in rolls or sheets, and always supplied on an easy-peel liner.
Benefits of Kiss Cutting:
Peel and stick user friendly
Common release liner
Tabbing options
Rolls and sheets
Best for medium to high volume